Berker TS / TS Crystal / TS Crystal Ball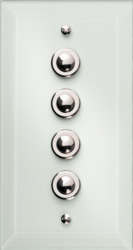 Behind its elegantly purist exterior, there is an unexpected wealth of technical options: the Berker TS allows operation, not only of multiple light sources, but, if so desired, also of intelligent building control systems, such as Berker KNX or Berker Radio Bus. With their fine platform and switching knobs MADE WITH SWAROVSKI ELEMENTS, the Berker TS Crystal lends refinement to any atmosphere.
Suitable for installation bus systems and relay circuits with safety extra-low voltage

Material: glass

Crystalline variation of push-buttons MADE WITH SWAROVSKI ELEMENTS for the glass platform of the Berker TS

Push-buttons available in 4 colours

SURFACES
 
Glass, glossy, imprint on backside
Polar white similar to RAL 9010
PUSH-BUTTON 
 
Metal, brass, galvanised 
chrome, glossy
gold, 24-carat, glossy
stainless steel, matt brushed nickel
All data is subject to errors and technical modifications.