Berker B.IQ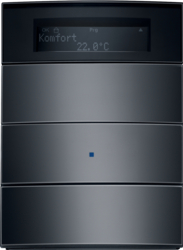 A wide array of alternative materials and colours have been added to the convenient variety of KNX functionality of the Berker B.IQ.
Frameless KNX push-button sensors with full-material rockers (glass, stainless steel and aluminium)

High scope of functions in the KNX applications through to devices with integrated thermostats

The attractive appearance is rounded off using white status LEDs and a blue operation LED.

Suitable variants for all materials and colours of sockets in the Berker B.7 switch programme. Available materials: plastic and glass in polar white, black and aluminium. Metal variants in aluminium and stainless steel

SURFACES
 
Plastic
Polar white similar to RAL 9010
 
Glass, glossy, print on the back
Polar white similar to RAL 9010
Black similar to RAL 9005
 
Metal
Aluminium
Stainless steel
 
All data is subject to errors and technical modifications.